After spending Spring Break week in my motor home I woke up in my apartment, in my own bed, disoriented; couldn't find the bathroom for a nighttime visit without putting a light on.
At the campground in Maryland, when I was dithering over which kitchen items I might take, and what I might leave behind, my friend, Margaret, who had come with me for a couple days of the shakedown cruise laughed and said, "You really don't quite get it, that you're moving!" True that. In about 70 days, I need to have my apartment totally packed up and ready for Jessica to move in. I'll need to fill up this RV with my greatly reduced possessions: maps, kitchen stuff, foodstuffs for the road, clothing, books, electronics and tools, and my bike. Yikes!
I liked my week in the RV just fine. Galley kitchen was roomy enough, had clever storage opportunities, and a flip up/flip down extra bit of counter space for food prep or draining dishes. The bathroom is the size of a phone booth. Pro-tip: don't drop the soap—you'd need to step out into the bedroom to bend over and pick it up. Norcold refrigerator works ok, but the shelves fall off while traveling. This happened twice, so it was not an anomaly. Just one more item for the pre-flight checklist: "empty fridge shelves into small cooler."
Both beds were comfortable. The banquette area/second bed of the RV, which is a slide-out room, is about 10 degrees cooler than the back bedroom. Probably will be 10 degrees hotter in the warm weather. Outside storage compartments do get some moisture when traveling in the rain, so plastic bags on anything that needs to stay dry, like the dirty laundry or charcoal.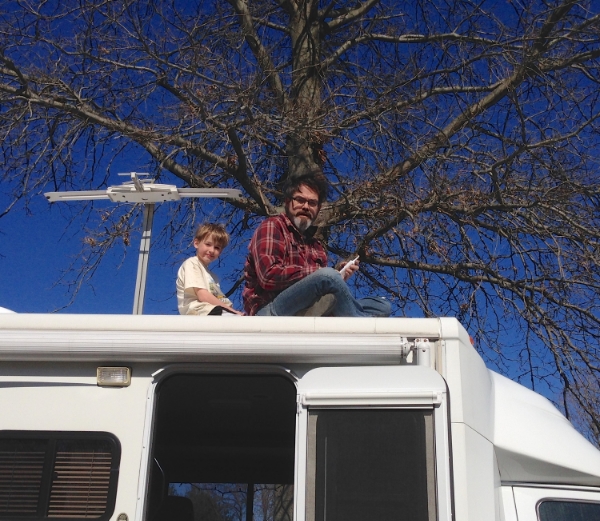 My son Tom's first five hours at the motor home while I was parked at the campground in Bethpage, were all about trying to get the water to work, and answer my queries about the many other systems. He is such a good sport—takes good care of his ma, but ultimately he decided that the city water diverter was shot. No matter which position it was in, it kept sending the water out the overflow between the rear wheels while the tank was just 1/3 of the way full. After a few hours of following Chuck's notes in the manual, alternately standing on his head and laying on the floor peering under the bed at the plumbing system, and cursing the un-labled schematics, Tom decided to go home where there was wifi and try to figure it out. After a bunch of time learning the plumbing system in the rig, his best guess put the diverter at fault. So I added it to the list of things to be repaired or checked-out at Campingworld in Kingston. I lived the week dry-camping—carrying gallon jugs of water, just like tent campers do. This was still way more luxurious than any camping trip I'd been on before.
The rig handles really well. With no cross-winds, I had her up to 80 mph while running the NY State Thruway from New Paltz up to Kingston. We were trying to make it to the service center at Campingworld before 5:PM when they closed. I got there with two minutes to spare—maybe 90 seconds. But Kathleen was a good sport. We had gone over my wish-list on the phone before I arrived. She checked the rig in for service, to repair and troubleshoot everything the shakedown cruise had revealed. I was sad to abandon the wee beastie sitting on the lot there, but there was work to do, and work to go back to for the next two months. We climbed back into the Subaru for our return trek to NYC.