Once everyone arrived, and got over all the driving, we had a terrific time together in Maine. These folks drove ten, twelve, fourteen hours to come there and party with me. I truly appreciate what that trip cost everyone, and I was so anxious until everyone arrived safely. I don't know if it's an Irish thing, this looking over my shoulder for the next disaster, but I found it hard to relax and trust that all would be well, until everyone landed safely.
Tom and Alice called an audible as soon as they saw the house and grounds they had rented for the week. We changed our plans on the fly, and they hosted the party at their "cottage." Their place was far superior to the picnic grounds at Thompson Island. They had a full kitchen, many rooms, a shower—No wait—A REAL Shower! A big flat driveway out front for the Rig, a fire pit in the back yard surrounded by Adirondack Chairs, a giant deep front porch with a wicker set, table and chairs, and did I mention they had a shower? The shower in my rig is great, and works well, but the fresh water tank is quickly emptied, and the grey water tank quickly filled. I had Margaret, RJ, and Alyssa sleeping over with me in The Beast. She is roomy enough, but I still do not know how to use the available space efficiently yet, so we spent a lot of time moving stuff from one spot to another. Actually, I think we did alright, with three adults living in there.
So, we moved the party venue. I drove the motor home to their place. Alyssa drove my pals over, and all the logistics were worked out, to create a superb version of the dream—the Retirement Jamboree I imagined one year ago.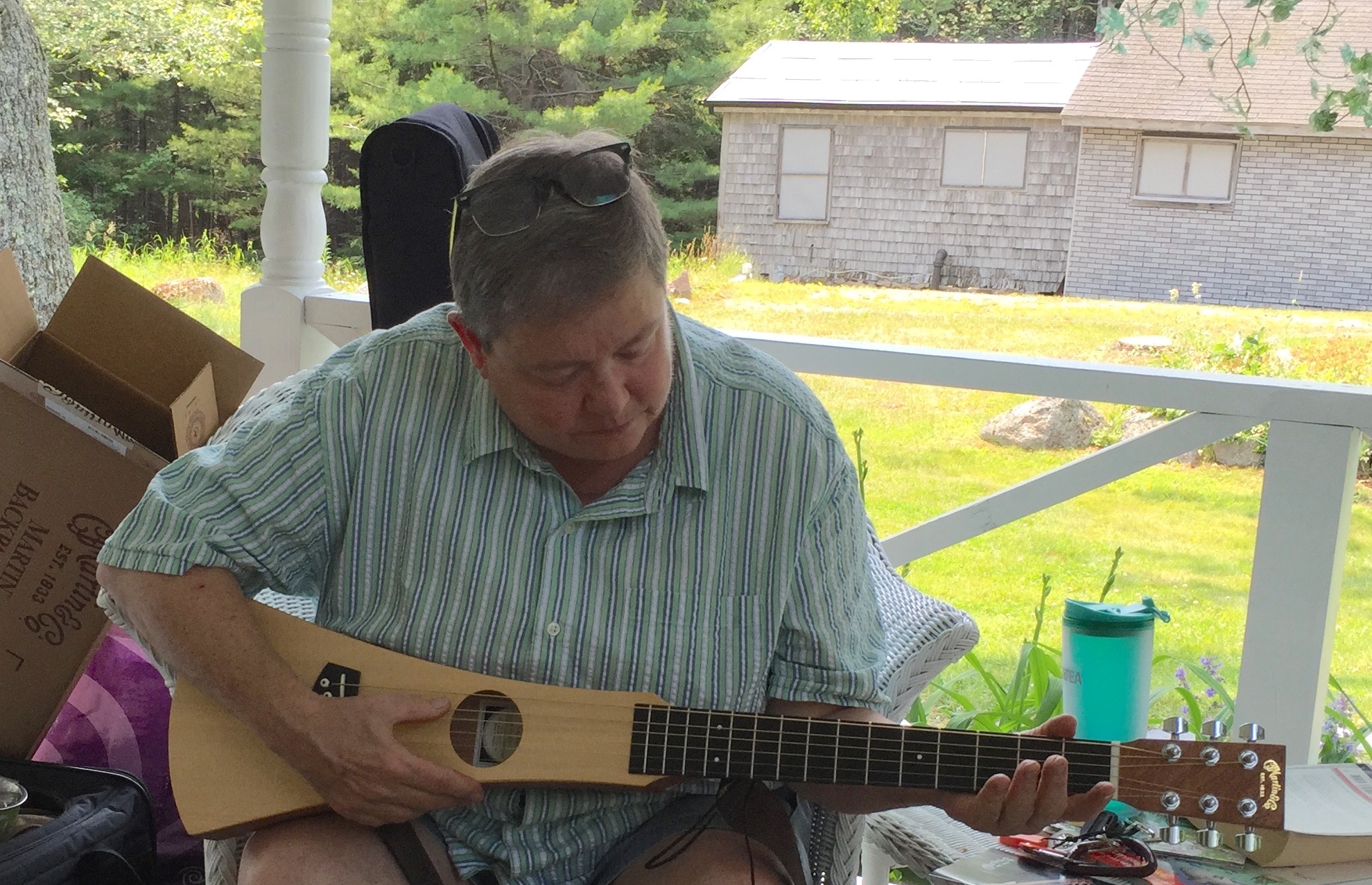 Tom, Alice and the boys gave me a beautiful Martin Backpacker guitar to keep me company on my journey. That was the first time I cried for the day. I was so knocked out by their generosity, and the thoughtfulness of the gift. I will play a little bit every day, until I get my chops back. I was never any kind of great musician, but playing the repertoire of songs I loved fed my soul. I stopped playing on a daily basis 35 years ago, but always intended to reclaim the gift. That time starts now.
Ed and Richard made me a small "big card." In my family we often used to cut stuff out of magazines and newspapers to make these giant, personalized, folded-oak-tag greeting cards. They were an art form, and an act of love—to invest the time to find, cut-out, glue the images and text onto the card. Alyssa made the clever quip that "they were old-school, typeset-print-cut-paste, instead of the contemporary sequence of type, cut, paste, print."
As soon as we got my new guitar tuned up, I began to play Gerry and the Pacemaker's "Don't Let The Sun Catch You Crying." Ever since I first learned how to play that song, it has been the first thing my fingers start trying to find when I have a guitar in my hands. This time it made me really cry, because I realized that it's been an anthem in my life. The message of the song, is that today may be a crappy day, with miserable things happening to me, "but tomorrow will bring joy, for every girl and boy, so don't let the sun catch you crying…" It's a deep message for me, to put the pain and the past in their proper place, and move on to what could indeed be a better day, filled with joy—like this one.
There I was, surrounded by people who love me. Folks who have shown up for me at this gathering to help celebrate this huge transition--from my work life, to my life as a retired person—from my life at home, to my life on the road. I looked around and I realized that yes, I will keep on trying not to let the sun catch me crying—unless, like today, they are tears of joy.