After two days of low clouds and torrential rainstorms while I was over in Whitefish Lake, Montana, I awoke this morning here in West Glacier to bright blue skies, and a weather report that promised thunderstorms around noon. I had a very fast breakfast and got on the road right away.
There was the issue of being barred from The Going to the Sun Road because of my rig's height, length, and width all exceeding allowed limits, same at Hetch Hetchy and Kings Canyon/Sequoia. But the ranger on the East side of the park advised me to drive around the park on Route 2, and go in on the west side. She thought I could go in as far as the Jackson Glacier Viewpoint, take some photos and retrace my route back out of the park. Nope. Not true, said the ranger at the Western Gate. I could only drive the first six miles of that road, and then I'd be turned around without seeing a glacier at all. But, he directed me to drive eight more miles up Route 89, to the Many Glaciers Road, where I could enter safely and see, well, four glaciers. There used to be many more, but they've melted with the climate change.
So, that is what I did. Well, it's what I tried to do. But the cows had priority. They were just prancing all over the road, munching the sweet grasses that don't get mowed. While I was waiting, I wondered why were cows grazing in a National Park? It seems that their owners have grazing rights in the forestry lands that surround the park, but the cows sometimes find a way over into the parklands. They were literally cavorting, I though of them as a flock, or a gaggle, because of their behavior.
Many of them were young'uns, so perhaps that is why they seemed so silly. After a while, I inched the rig forward a bit, to send a message that I wanted to get on with my day, and the bell cow, the big mama of the group walked out to the middle of the road, planted herself, and glared at me, for a good long while, just total stink-eye. I actually wondered if she would attack the front of The Beast, and how much damage she might do. Then, I remembered blocking traffic like this with the bus, in certain streets on my school bus run, so no cars could squeeze by and crush a student before they made it to the sidewalk.
Eventually, she moooed some instructions to the kids, who did amble off to one side, and when she was satisfied that they were reasonably safe, she flipped her tail at me and moseyed off to one side too.
I got some fun photos, and a good story about my trip up into Glacier. But the day was young. I was on 30 miles of road through a prairie landscape, and there were prairie dogs racing from right to left, then the next one from the left to the right. Each time, they'd get across the lanes of traffic and sit up in that way they have—I thought I could hear them thinking, "Did I make it? Wow, that was close!" I guess they believe that the grass is greener on the other side of the road.
A little while outside Browning, Montana I passed The Blackfeet Tribe's Bison Reserve, and was pleased to find the herd working the grasses by the fence right near the road. I stopped and shot some photos of them also. Cool shots of the calves trying to nurse, but the females, just kept walking away from them. Perhaps it's weaning time, and the calves weren't into eating their veggies yet.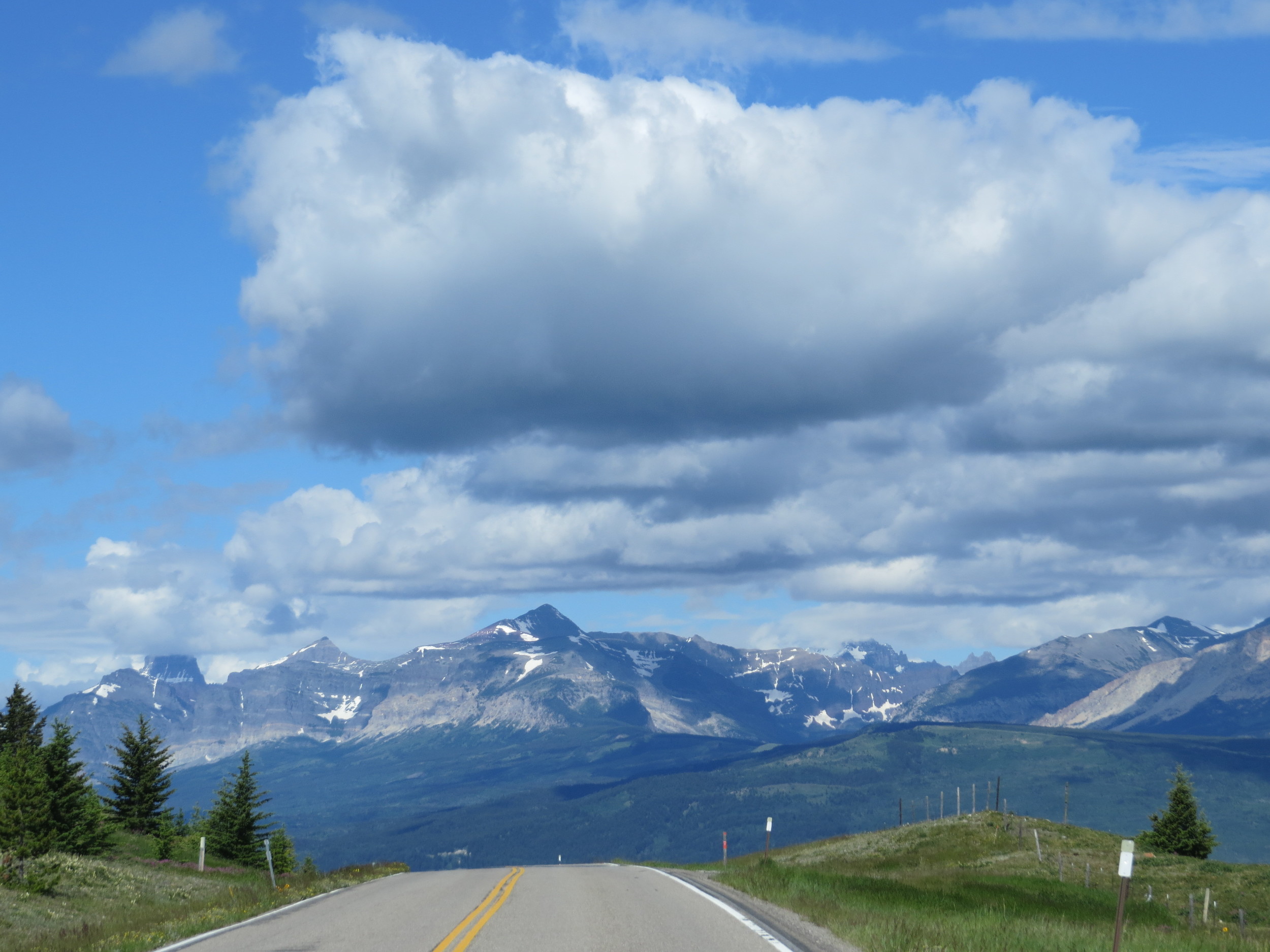 The Big Sky Montana slogan was certainly true on a morning like this. I had a great day, was only "lost" for a little while, and enjoyed the hell out of the things I was able to see while I was bushwhacking.
And finally, I will post the photo I was able to get of the glaciers. Salamander is the largest one still there. And they still have their winter snow sitting on them, but that's a good thing. Last year by the end of May, they were exposed and melting for three whole months. I was told that they're actually easier to see this way, since they're kind of a dull grayish blue in color.